Meet Dr. Nathan Lorenz
Gahanna Chiropractor Dr. Nathan Lorenz loves what he does. Every day is different—different challenges, different solutions. Helping people achieve better health, regardless of their issues, is very gratifying.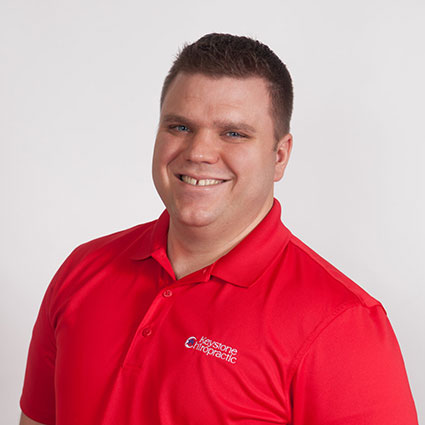 A Lifetime of Chiropractic
A second generation chiropractor, Dr. Nate grew up believing everyone got regular adjustments. With both his dad and uncle practicing, it was part of their family lifestyle. When he got older, Dr. Nate decided to enroll in pre-med courses at Bowling Green State University.
Still not sure which direction to go in, he continued to take courses, but none of them made as much sense to him as chiropractic did. Ultimately, Dr. Nate decided to become a chiropractor and is glad he did!
He attended the prestigious Palmer College of Chiropractic in Iowa. Dr. Nate received his Doctor of Chiropractic in 2007 and opened his practice soon after. His experience at Palmer was life-changing, and he remains in contact with many of his professors.
With an interest in caring for athletes, Dr. Nate earned certification as a Certified Chiropractic Sports Physician®, which allows him to address a variety of sports injuries. He has extensive experience to help with rehabilitation, especially for those active in youth sports.
A Change in Perspective
Like many others in his profession, Dr. Nate finished school with the mindset that chiropractic care was only for pain relief. Over the years, and after caring for hundreds of patients, he has realized it's about providing his patients with a better lifestyle.
While still addressing acute pain conditions, the practice is geared more toward preventative types of care. As Dr. Nate has watched his patients age, it's been evident how beneficial regular chiropractic care has been in their lives.
EXPLORE OUR SERVICES »
Outside the Practice
When he's not busy helping his patients, Dr. Nate loves spending time with his family. He got married in 2018, and has two school-age children. Dr. Nate loves to play golf with his children, and friends whenever he can. He's also a football fan and enjoys watching the games.
Change Your Life for the Better
Our friendly staff would love to speak with you about getting started. Contact our office to make an appointment and be sure to ask about our new patient special.
---
Dr. Nathan Lorenz | (614) 475-1900